高空工作台-租5.7米升降台(1台)要幾錢(1星期、1個月)?
高空工作台-1星期$3000(包運費、教機、升降台form 1、升降台 form 5)
1個月$5200(包運費、升降台form 1、升降台 form 5)
高空工作台-係咪隨時有機?
平日在App 16:00前落單,最快下一工作天上午有機
平日在App 16:00後落單,最快下一工作天下午有機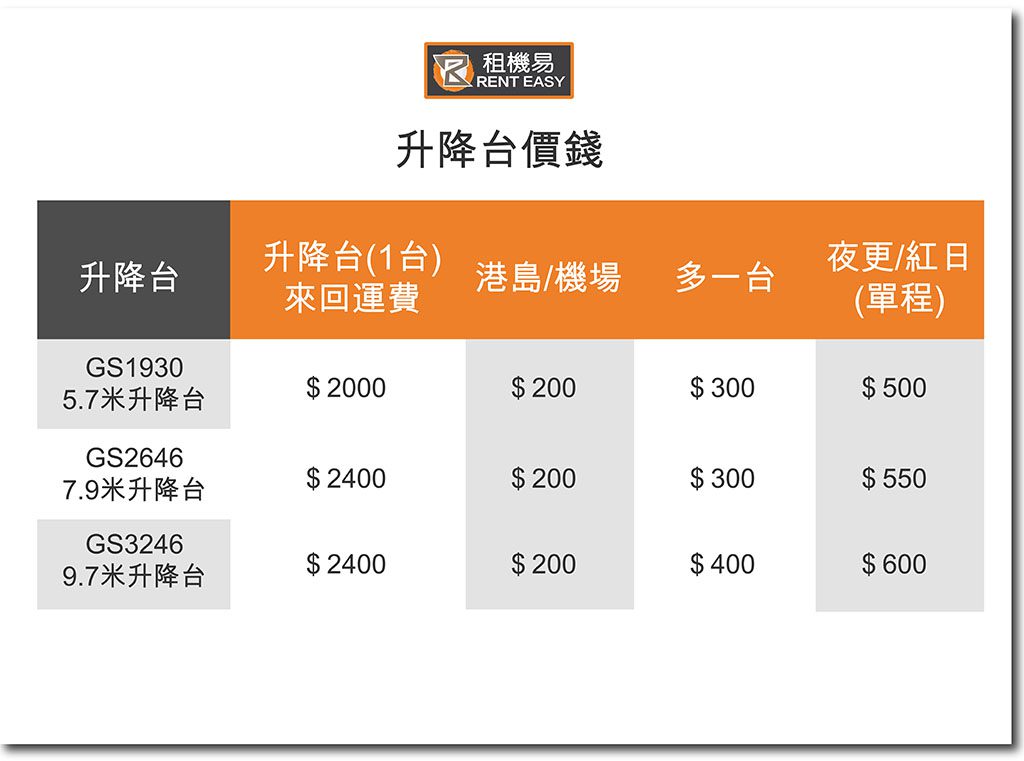 要唔要按金,點俾錢?
到機收$3000 (星期) / 收$4900(月)
高空工作台-流程係點?
2.確認升降台規格及電源接駁
3.提交商業登記及卡片
4.簽回報價單
5.確認到機時間
_________完____________
#升降台高度#升降台價錢#升降台租#升降台英文#升降台買賣#直立式電動升降台#升降台租賃香港電動#升降台價錢#電動升降台英文#升降台表格#直立式升降台#升降台公司#升降台租用#升降台香港#升降台重量#升降台 form 1#升降台 form 5
.
The aerial work platform sets up a perfect workspace in the sky to complete maintenance and construction tasks. The high reach of these platforms allows workers to access areas that are typically out of reach from ground level. Supported by booms, jibs, scissor lifts or telehandlers, the aerial work platform provides an elevated station for workers to perform various tasks.
.
Aerial work platforms have transformed how maintenance and construction works are done on tall structures. Workers no longer need dangerous ladders or scaffolding to reach heights, instead, they have a safe and stable workbase while suspended in the air. The different types of aerial work platforms include boom lifts, scissor lifts, cherry pickers, traction elevating work platforms and vehicle-mounted platforms.
.
The boom lift is a very popular choice due to its versatility. Telescopic booms or articulating booms can reach heights up to 130 feet and provide spacious work platforms for multiple workers. Boom lifts are used for tasks like building maintenance, electrical work, glazing, inspections and light construction. Their maneuverability allows workers to access different angles and hard-to-reach areas.
.
Scissor lifts are compact aerial work platforms that use a scissor-like mechanism for lifting. They are suitable for indoor applications and are the go-to option for short height access up to 28 feet. Scissor lifts offer stable and enclosed work platforms for one or two workers. They are ideal for tasks in warehouses, retail stores, office buildings and event venues.
.
Cherry pickers are aerial work platforms mounted on truck carriers. They use boom technology and can reach heights up to 120 feet. Their wheel-mounted carriers make them highly mobile and suitable for outdoor applications. Cherry pickers are deployed in situations where workers need to access several locations in quick succession.
.
Traction elevating work platforms use track systems instead of wheels for mobility. Their tracks provide excellent traction on slippery surfaces. They generally operate at lower heights up to 20 feet but can access difficult terrain and accommodate heavier loads. Traction aerial work platforms are mainly used in tasks that require close ground access.
.
In summary, high-capacity aerial work platforms provide spacious, stable and safe workstations suspended at